Why Water Worx for Accountable Care Organizations Information Sheet
Achieve Quality Outcomes and Decrease Readmissions with Aquatic Therapy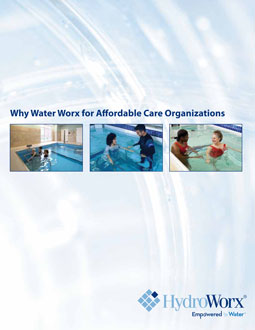 By integrating water therapy into your Accountable Care Organization, you can achieve quality outcomes and decrease readmissions. Clinicians who have used advanced aquatic technology, like underwater treadmills and resistance therapy jets, as part of their rehabilitation services have found that their patients have better rehab outcomes. These patients also experience less pain related to rehabilitation and are happier to comply with their rehabilitation protocols. Download this tipsheet to find out why aquatic therapy produces results for the entire spectrum of care:
Enhanced prehab and rehabilitation outcomes
Seamless transition of care with emphasis on reduced readmissions or reinjury
Learn how to effectively integrate aquatic therapy into your accountable care organization to improve outcomes with our free whitepaper.