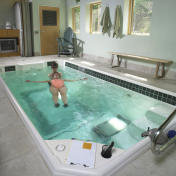 Variable Speed Underwater Treadmill: Your patients or athletes can simulate appropriate walking mechanics and exercise virtually pain free without fear of falling or re-injury.


Resistance/Therapy Jets: Increase strength and range of motion in your patients or athletes joints and muscles.


Adjustable Floor & Depth: Eliminate accessibility issues with our 2000 and 1200 series pools that allow for instant and safe entrance into the water with no ladders or step.


Hydro Massage: Our complete massage system allows you to adjust the flow to trigger a deep penetrating massage on arthritic joints, or a light massage to ease aching and sore muscles.