Winner!
Coastal Carolina's Barry Lippman, MS, ATC, NASM-PES
for the Shoulder Rehabilitation of a Division 1 Second Baseman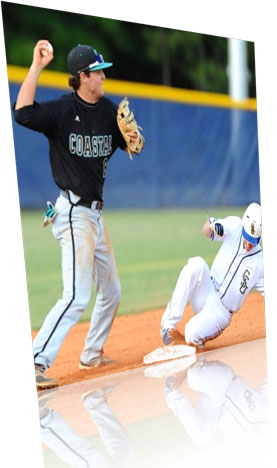 This second baseman arrived at Coastal Carolina in August of 2012 as a transfer with severe atrophy and weakness in his right shoulder. Due to the concern of further damaging the shoulder through off season lifting, Barry Lippman, Associate Athletic Trainer and Rehab Coordinator and team decided to utilize aquatic therapy for the athlete's off season strengthening program.

After a successful progression of therapeutic exercise (in offseason and preseason) the athlete was able to participate in the entire spring 2013 baseball season. The athlete was able to increase his strength safely in the pool enough to complete an accomplished 2013 baseball season.

After the end of the 2013 season the athlete underwent surgery and thankfully had a great base of strength due to the aquatic therapy sessions throughout preseason and the regular season. The surgery was to repair a 1cm by 1cm thick rotator cuff tear, as well as a decompression release of the suprascapular nerve supplying the rotator cuff (which is rarely seen in athletics).

Although the athlete was limited in what he was cleared to do, Lippman was able to work around the limitations using the aquatic therapy pool with the surgeon's approval. Lippman had the athlete begin underwater therapy at about two weeks post-op. He began running on the underwater treadmill in the HydroWorx at five weeks post-op and progressed to sprinting against the jets over a three week period. The ability to run in a reduced gravity environment offered a way to implement sprint work roughly four weeks sooner than expected!
Overall, the athlete's recovery was rapid and he was able to initiate a hitting progression program starting at about 10 weeks post-op and a throwing program starting at 12 weeks post-op. He had also fully returned to play, participating in off season practices and workouts.

At the time of physician's final follow up, (approximately 6 months post op.) his rotator cuff strength was equal bilaterally (5/5) in all manual muscle tests. He was able to demonstrate full strength of the rotator cuff. Today, the athlete continues to have success on the baseball field with minimal shoulder soreness, while continuing therapy pool workouts once or twice a week in order to maintain throwing strength.
---