Free Tip Sheet: ACL Recovery with Water Therapy
How water enhances rehabilitation for ACL recovery.
According to the American Academy of Orthopaedic Surgeons, there are more than 200,000 cases of ACL injuries each year with approximately 100,000 of these knees reconstructed annually. Aquatic therapy is being harnessed to help generate remarkable rehabilitation breakthroughs previously thought 'impossible' by traditional standards.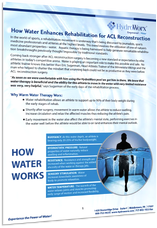 "As soon as we are comfortable using the HydroWorx pool after surgery, we get our athletes in there. We know that water therapy is benecial. The ability for an athlete to move in the water with very limited resistance is very, very helpful."- Eric Sugarman, Head Athletic Trainer of the Minnesota Vikings
Download our tip sheet today to see the impact HydroWorx therapy can have on ACL recovery, including:
How the natural properties of water affects a recovering athlete physically and mentally.
How water enhances productivity after an injury.
The difference the use of tools like underwater treadmills and resistance therapy jets safely enhance rehabilitation and conditioning.
A sample timeline of an ACL recovery after surgery utilizing HydroWorx therapy.
Download your free copy of this tip sheet by filling out the form to the right!