Free Info Sheet: Why Water Worx for Arthritis, Chronic Pain & Joint Replacements.
Reduce pain and recover from surgery faster with water rehabilitation.
Many arthritis and joint replacement patients are prohibited from a land-based exercise program due to pain. Aquatic therapy offers these individuals relief and better outcomes with warm water therapy.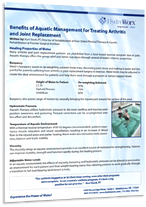 Learn why aquatic therapy is proven to be an effective medium for those suffering from osteoarthritis or joint replacements to exercise and successfully rehabilitate. According to the Centers for Disease Control (CDC), almost 50 percent of the United States population will develop osteoarthritis in their knees by the time they are in their mid-80's. In this info sheet, Kurt Stork, PT, Director of Rehabilitation at Four States Physical Therapy & Aquatic Rehabilitation & Premier Surgical Institute, provided the many reasons why aquatic therapy works so well for this patient population. Additionally, Kurt shares four ways to improve outcomes with the use of aquatic therapy.
"Our patients begged us to let them keep coming, even after their programs were complete. So we created a wellness program. It's been a big positive for our practice."
- Kurt Stork, PT
Download our info sheet today to see the impact water has on those suffering from osteoarthritis or recovering from joint replacements, including:
The healing properties of water combined with advanced technology and their effects
Why water therapy can be more effective than land-base therapy alone
The improved patient outcomes and testimonials through the use of water therapy
How water therapy increases patient compliance for rehabilitation
Download your free copy of this info sheet by filling out the form to the right!