Free Program Profile: Falls Reduction Case Study
Decrease falls and hospitalizations as a result of falls with the use of hydrotherapy to increase lower body strength and center of gravity.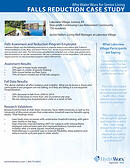 According to the US Centers for Disease Control and Prevention, one third of Americans aged 65 and older fall each year with up to 30% experiencing fall related injuries that negatively impact functioning and independence.
Muscle weakness and gait impairments are the most common causes of falls in older adults. Falls are also the leading cause of fatal injury and the most common cause of non-fatal, trauma-related hospital admissions among older adults. Warm water therapy and wellness programs offer an effective way to combat falls and provide a valuable benefit to your community's bottom line.
"We have seen increases in our assessments across the board on all participants in more than one category. Our statistics thus far show 28% increase in center of gravity, 37% in lower body strength, and 19% of clients moved out of fall risk category. We will continue to use FallProof H2O and the HydroWorx 1200, as we are getting great results and the best part of all, our participants love it too!" — Jackie Halbin, Living Well Manager, Lakeview Village
Download our case study to see how a falls reduction program is working for Lakeview Village including:
Improved assessment results
Decreased falls
Improved quality of life
Download your free copy of this case study by filling out the form to the right!