Free WHITEPAPER: EFFECTIVE AQUATIC THERAPY EXERCISES FOR ATHLETES WITH LOWER EXTREMITY INJURIES
Early intervention is so integral to the recovery process.
Injuries of the lower extremities are commonly seen in many populations, including athletes, accident victims and seniors. Typically, these types of problems occur in the hips, knees, legs, ankles and feet. Because early intervention is so integral to the recovery process, many leading experts and authorities begin working with patients in an aquatic environment and then progress to land-based exercises.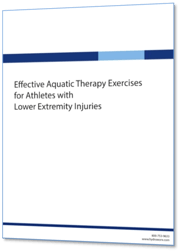 "This gives us a great advantage to be able to put our injured athletes underwater so they can continue to exercise and get the conditioning and training that they need to get back to sport." - Justin Bland, Associate Athletic Trainer, Jacksonville Jaguars
Download our tip sheet today to see the impact HydroWorx therapy can have on lower extremity recovery, including:
The benefits of aquatic therapy for lower extremity injuries.
The multiple stages of rehab for these injuries and suggested goals, protocols and tips.
Pool considerations for aquatic therapy patients.
Equipment suggestions for lower extremity pool rehab.
Download your free copy of this tip sheet by filling out the form to the right!