Free Info Sheet: Why Plunge Pools work for Recovery & Regeneration
Catalyze regeneration and decrease muscle soreness with active recovery in hot and cold pools.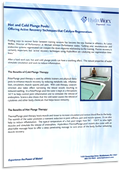 Recovery has sometimes been viewed as simply a matter of time: taking time off of training to wait for muscles and joints to loosen up and relax. Cold hydrotherapy is often used in passive recovery techniques but active recovery methods can have impressive benefits.
"Getting your neuromuscular and endocrine systems regenerated can steepen the dose-response relationship to the training. Passive recovery is certainly important, but 'active' recovery techniques using HydroWorx are catalyzing our regeneration timelines." - Lance Walker, Michael Johnson Performance
Download our PlungePools info sheet today to learn how active recovery techniques are catalyzing recovery times, including:
Enhancing muscle recovery and reduced soreness.
Giving your athletes higher functioning levels during the next training session.
Greater caloric burn during training cycles.
Download your free copy of this info sheet by filling out the form to the right!