Download: Profitability Analysis Spreadsheet
Calculate your potential profit with a HydroWorx pool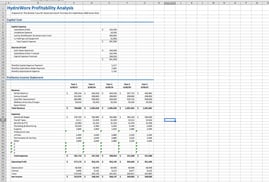 Many of our customers are experiencing very positive and significant returns on their investment with aquatic therapy. To see if adding a pool is right for your organization, utilize our interactive spreadsheet to run the numbers.
"From an ROI perspective our HydroWorx pool has helped us draw in a variety of new patient types that were in need of a therapy modality that treated through less pain."
— Keith Ori, BD, PT, Co-Owner of Orthopedic Rehab Facilities in Montana
Download our customizable profitability analysis in excel to calculate:
Proforma income statement including revenue, expenses, operating profit and net income
Five-year financial summary including ROI, breakeven year and net cash flow
Download your customizable profitability analysis by filling out the form to the right!