REquest a quote Today!
HW100 Pool System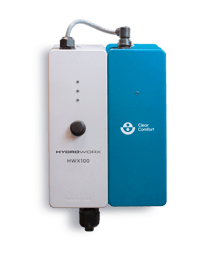 HydroWorx has partnered with Clear Comfort to offer a therapy-grade water solution, the HWX100. The HWX100 is an add-on system that helps simplify maintaining the water chemistry of your pool.

Unique Benefits:
Eliminate harmful DBPs (disinfection byproducts)
Eliminate chlorine odor
No more red eyes or dry skin
Eliminate lung irritation
Fresher feeling water & better air quality
Reduces chemical exposure
Pro tip: Clear Comfort's advanced oxidation process destroys contaminants on contact, protecting patients.
Request a quote by filling out the form on the left!