Residents of All Levels Can Benefit From Using HydroWorx Technology!
From weight loss to building leg strength, easing arthritic joints or rehab surgery, underwater treadmill exercise can be a safe and pain free way for your residents to remain active and independent longer.
AQUATIC TOOLKIT FOR THE RETIREMENT COMMUNITY:

Our Toolkit for the Retirement Community will share the success stories and best pracitices from other facilities like yours.
Our Toolkit for the Retirement Community includes:
The Latest Research on Water Fitness & Therapy


Suggested programming to Grow Your Business

Financial Return benefits from real users utilizing the HydroWorx technology

Marketing tips on how to successfully integrate the new equipment into your Retirement Community
Expanding Financial Return. Whether you are looking to purchase a therapy pool for your facility or a portable underwater treadmill for your existing pool our interactive ROI Calculator will allow you to run the financial payback numbers specific to your facility.

REQUEST OUR FREE TOOLKIT AND LEASING OPTIONS PACKET WITH THE FORM ON LEFT.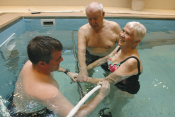 "They can't believe it, they can't believe the way their body feels when they're walking because it's so different in the water and they can speed it up and slow it down and they really enjoy that. And then when you throw the jets in there and they feel the water coming out. They're done, they just love it."
Deb Kunkle, Country Meadows, Memory Support Coordinator