Free White Paper: Why Water Worx for Rural Health Providers
Achieve quality outcomes and reduce readmissions with water.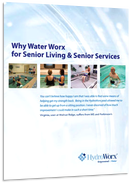 Integrating aquatic therapy into a rural hospital helps achieve quality outcomes and reduce readmissions.
Clinicians who have used advanced aquatic technology, like underwater treadmills and resistance therapy jets, as part of their rehabilitation services have found that their patients achieve better rehab outcomes. These patients also experience less pain related to rehabilitation and are happier to comply with their rehabilitation protocols.
"This pool is allowing our patients to get into a more therapeutic environment, begin their therapy early, more comfortably and progress toward land-based activities in a much more rapid manner. So we really believe it's been an excellent tool to help us continue to achieve nationally ranked outcomes." — Mick Ward, Director of Rehabilitation and Sports Medicine Services, Freeman Health System in Joplin, MO
Download our white paper today to see the impact warm water therapy can have on your rural community, including:
Improved results and patient compliance for therapy services
Potential financial gains from aquatic therapy based on customer experiences
Additional uses for different populations and conditions
Download your free copy of this white paper by filling out the form to the right!