Free White Paper: Aquatic Therapy's New Role in Emerging Senior Living Trends
Attract new residents and best-in-class staff by implementing state-of-the-art wellness facilities and aquatic therapy pools.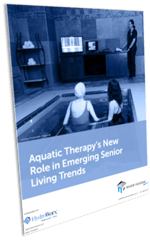 As competition in the senior living industry rises, providers that have implemented state-of-the-art aquatic therapy pools have an advantage in attracting new residents and attracting best-in-class staff.

Senior Housing News has compiled industry data and success stories supporting how aquatic therapy pools are helping senior living providers deliver on their wellness, rehabilitation and financial goals, all while improving seniors' quality of life.
"High-tech fitness and physical therapy spaces that have the latest equipment to help people with strength and balance show that the community understands the importance of wellness." - Elisabeth Borden, founding principal for Colorado-based firm The Highland Group
Download our white paper today to see the impact warm water therapy and wellness programs can have on your community, including:
How senior living providers can drive new business with aquatic therapy
The value of wellness programs featuring aquatic therapy pools
Provider financial and patient outcome success stories
How aquatic therapy supports pre-hab services
Download your free copy of this white paper by filling out the form to the right!