Free Program Profile: Building a Successful Aquatic Therapy program
Expanding Client Base Leads to a Profitable Practice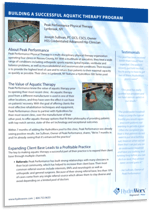 Peak Performance Physical Therapy is a multi-disciplinary physical therapy organization operating four clinics in Nassau County, NY. Their mission is to provide the highest level of care and to return their patients to their maximal capacity as quickly as possible.
"The pool has really sparked our program and we have seen an uptick in our results." — Joe Sullivan, Owner of Peak Performance
Download this program profile to learn the value of aquatic therapy and the key to making aquatic therapy a successful part of their practice. The information shared includes:
How they expanded their client base for profitability
Visit data for the HydroWorx 500 Series
Advantages of the underwater treadmill
Download your free copy of this case study by filling out the form to the right!