Free Program Profile: Therapy Services
A carefully executed aquatic therapy plan can create tremendous growth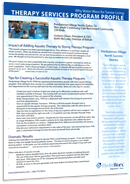 An aquatic therapy pool in a senior living community can have a significant impact on multiple facets of residents' well-being. Using an advanced aquatic therapy pool can be beneficial to your residents, your community and your bottom line.
"It's dramatically increased the number of patients we do serve. We've also become a preferred provider at many of our hospital systems because of this pool." — Godwin Dixon, President & CEO of Presbyterian Communities and Services
Download our case study to see how a carefully executed plan and a great team is working for Presybterian Village North including:
Increased Medicare census
Improved balance and fall reduction cases
Receiving a higher reimbursement in the pool than on land
Download your free copy of this case study by filling out the form to the right!