Free Program Profile: AQUATIC THERAPY PROFITABILITY ANALYSIS
Creating a Successful Aquatic Therapy Business Plan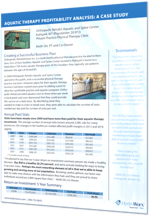 This multi-facility physical therapy practice located in rural Montana successfully integrated aquatic therapy by creating a detailed business plan, identifying their break even point by calculating the number of visits needed per day and the number of units per visit needed.
"Our ROI has been impressive as it has brought to us a variety of patients that were in need of this option and through word of mouth marketing we have been able to sustain a successful business model." — Keith Ori, Co-Owner of Orthopedic Rehab
Download this program profile to see how having an established business plan and integrating an aquatic therapy pool is generating a big return on investment for Orthopedic Rehab. The information shared includes:
6-year financial data including number of visits, revenue and expenses
Profit margin data
Visitor increase information
Download your free copy of this case study by filling out the form to the right!