Free Program Profile: Outpatient Therapy Services
Focusing on exceptional care matched with outstanding customer service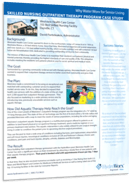 This well-established skilled nursing facility was looking for ways to better serve their community and grow their business. The addition of outpatient therapy services with state-of-the-art equipment such as an aquatic therapy pool has helped them to grow significantly.
"As a result of the excellent treatment I received during my inpatient rehabilitation, and because Westview has an outstanding aquatic therapy program, I also chose to continue to do my outpatient therapy at Westview's Outpatient Therapy and Aquatic Center." — patient
Download our case study to see how a carefully executed plan and a great team is working for Westview Health Care Center including:
Outpatient services offered
The use of the aquatic therapy pool
Increased revenue opportunities
Download your free copy of this case study by filling out the form to the right!