Free WHITEPAPER: HOW TO USE HYDROTHERAPY TO TRAIN YOUR ATHLETES
Find out how aquatic therapy can help your athletes condition and remain healthy.
You may be familiar with the benefits of aquatic therapy for injury treatment and rehabilitation. But did you know that aquatic therapy can be used for healthy athletes, too? From enhanced workouts to optimized active recovery, it can prove to be fruitful in a variety of ways.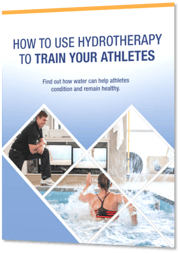 "We don't consider it an alternative to running outside, we consider it as important as running outside. It helps us become stronger by running against the resistance of the water, and it helps us recover from our dry land training."- Alberto Salazar, Head Coach of the Oregon Project
Download our whitepaper today to see the impact HydroWorx therapy can have healthy athletes, including:
Reducing overuse injuries
Supplementing land training
Increasing muscle strength
Speed and strength training
Post-workout recovery
Download your free copy of this whitepaper by filling out the form to the right!