Customer Training Program
train your entire staff for only $4,500! Up to 6 CEUs available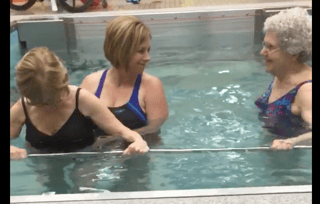 At HydroWorx, we're committed to our customers' success. Investment in a cutting edge modality is the first step, but proper training on that modality can make the difference between a good program and a truly thriving and profitable one.
To ensure that our customers make the most of their investment in aquatic therapy, we're offering a clinical training program. New customers and long-time customers alike can take advantage of this opportunity to have their staff trained by an experienced HydroWorx user and aquatic therapy expert.
This educational program will be a one day aquatic therapy training session for an entire staff of therapists. The instructor will schedule a day that works best for you and will perform the training with your staff right in your own pool.
Programs will be State Physical Therapy and Occupational Therapy Board approved and each staff member that attends the program will be eligible for up to 6 continuing education credit hours.
Physical therapy
Occupational therapy
Orthopedic rehabilitation
Neurological rehabilitation
Wellness
Senior care
The educational programs focus on best practices of pool use including but not limited to:
Effective use of pool features
Exercise protocols by condition/injury
Pool maintenance
Safety precautions
Creating/managing pool programs and scheduling
Marketing and gaining referrals
Up to 10 staff members can take part in the training session for a potential of 60 total CEUs for a staff. The cost of the program also includes a one hour consultation call before the day of training to ensure that the program will be tailored to meet the customer's needs.
Ensure that you're getting the best possible return on your investment in aquatic therapy by creating a staff of aquatic therapy champions!