hYDROWORx 3-COURSE MARATHON
January 20, 2022 from 9:45AM-1:15PM EDT
Presented by: Mike Studer (PT, MHS, NCS, CEEAA, CWT, CSST, FAPTA)
Join Mike Studer (PT, MHS, NCS, CEEAA, CWT, CSST, FAPTA) as he presents three different courses, all while attempting to break the world record for fastest completion of a marathon on an underwater treadmill! Not only will you have the opportunity to gain a wealth of knowledge, but you can witness history being made while you do it.
This webinar will consist of three different courses, all of which are detailed below. All three courses will be accessed via the same link, allowing you to join for any and all of the portions you feel will be most beneficial. Due to the time required to complete the marathon, the webinar will open 15 minutes early at 9:45 and will conclude 15 minutes late at 1:15 so everyone can watch Mike begin and end the journey to break (his own) world record.
*Please note: the times listed next to each course are an only an approximation*
Course 1: Stroke Rehabilitation - Neurosplashticity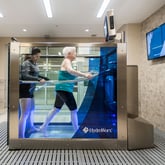 10:00am - 11:00am
This course will help practitioners with aquatic familiarity take their practice to the next depth! Learn how to apply principles of neuroplasticity in the aquatic environment with an underwater treadmill and more…
Learning Objectives:
Principles of neuroplasticity that can be conducted in the aquatic environment.
Benefits of aquatics for patients recovering from stroke.
Best techniques to create neurosplashticity


Course 2: Pace, Plunge, Power and Plyo - Aquatics for Parkinson Disease
11:00am - 12:00pm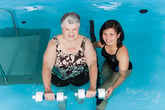 See how persons with Parkinson Disease (PwPD) can improve their skills in balance; their resources in power, strength and endurance; as well as participate in disease-modifying exercise – all within an aquatic environment.
Learning Objectives:
Parkinson Disease: not a one-size (program) fits all
Disease modification in PD - the science behind slowing the progression
Tremor Dominant (TD) Parkinson: power, fatiguability and dual task
Postural Instability Gait Disorder (PIGD) Parkinson: balance, strength and motor control
Dyskinesias


Course 3: No Pain, All Gain - Aquatics and Orthopedics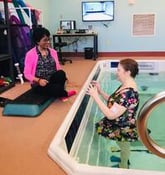 12:00pm - 1:00pm

In this course, we see the evidence and innovation for the use of an aquatic environment and more - an underwater treadmill to maximize the engagement and outcome for persons recovering from total joint replacement or lumbar spine surgery. While there are many more indications across cervical spine pathology, shoulder and ligament reconstruction - this high intensity and evidence-based course will be focused as indicated.
Learning Objectives:
Aquatic principles that can benefit persons with pain, stiffness and weakness after surgery
Total joint replacement - timing, activities and expectations
Laminectomy, fusion and underwater lumbar spine surgery
Speaker BIo:
Mike Studer (PT, MHS, NCS, CEEAA, CWT, CSST, FAPTA) received his physical therapy degree from the University of Missouri - Columbia in 1991. He received his post-professional MHS degree in physical therapy with neurologic emphasis from the University of Indianapolis. He has been board-certified as a Clinical Specialist in Neurologic Physical Therapy since 1995 and has been designated a Certified Exercise Expert in the Aging Adult (CEEAA) by the Geriatric Section of the APTA. Mike has served as the vice-president of the Neurology Section of the APTA and has been the chair of several special interest groups including the Practice Committee of the Academies of Neurology and Geriatric PT. He is a full-time treating therapist at, and founder of, Northwest Rehabilitation Associates in Oregon. Mr. Studer has presented courses and published articles on neurologic and geriatric rehabilitation since 1995 and has authored or co-authored several book chapters as well. Mike is now regularly a guest lecturer on an international basis at several universities and national meetings on the topics of balance, motor control, motor learning, cognitive impairment and case management. He was awarded the 2011 Clinician of the Year by the Academy of Neurologic Physical Therapy – a section of the American Physical Therapy Association – and the same award by the Academy of Geriatric PT – making him the first to receive this national distinction from each section.