Free Info Sheet: Waterproofing Methods Provide a Safe and Effective Way to Reap the Full Benefits of Aquatic Therapy
Begin rehabilitation much sooner with aquatic therapy than on land.
Traditionally, many surgeons, physicians, physical therapists and athletic trainers have hesitated to send patients into hydrotherapy environments immediately after surgery.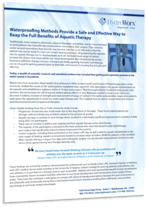 Learn why early post-operative aquatic therapy produces exceptional results for patients and athletes. Many studies have been done showing the safety and effectiveness of getting clients into the water almost immediately after surgery, using waterproofing methods. Get tips on successfully getting patients and athletes into the water quickly to improve their rehabilitation outcomes.
"We have found many forward-thinking clinicians who put patients and athletes into the water as early as 2-3 days post-op." - Randy Cohen, ATC, Assistant Director of Athletics at the University of Arizona
Download our info sheet today to see the impact water has on early post-operative patients, including:
Research indicating that getting patients in the water sooner is beneficial
7 ways early post-op aquatic therapy produces exceptional results
Recommended protocols for early post aquatic rehab
Download your free copy of this info sheet by filling out the form to the right!