Return to Activity From Total Hip Arthroplasty Using Aquatics
- A Case Study
May 7, 2014 from 2:00pm - 3:00pm EDT

Presented By: Keith Ori, Co-Owner of Orthopedic Rehab and Teresa Kropp, PT Manager of Orthopedic Rehab Aquatics and Spine Center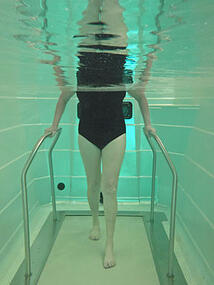 The number of hip surgeries will continue to increase as our population ages. Orthopedic Rehab Inc. is finding great success in treating a variety of hip surgeries using aquatic technology. This webcast will provide a demonstration of rehabilitation and recovery from hip surgery performed on an extremely active 54 year old female with longstanding hip pain that failed conservative interventions and labral repair surgery she had in 2009. The in-pool webcast will show the typical protocols used at different stages of the rehabilitation including timeline and progressions using aquatic therapy combined with underwater treadmill and resistance jets.
Webcast attendees will learn:
how aquatic therapy benefits those recovering from hip surgery
Specific protocols for each stage of rehabilitation
How to identify progression timing
How exercises done using aquatic therapy transfer to land progression
How advanced aquatic therapy played a key part in this patient's return to leading an active lifestyle

This 1 hour webcast will be broadcast live from the HydroWorx 750 Series pool at Orthopedic Rehab, Inc in Kalispell, Montana. Live attendees will have the opportunity to try out the HydroWorx 750 Series pool. Make sure you bring your bathing suit and towel!
---