The Use of Hydrotherapy in the Rehabilitation of Professional Athletes Post-ACL Reconstruction
Presented By: Ryan Bitzel, MPT, Rehabilitation Coordinator for the San Diego Padres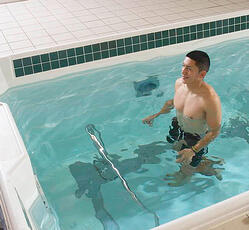 In this webinar, Rehabilitation Coordinator for the San Diego Padres, Ryan Bitzel, MPT will discuss the properties of hydrotherapy and how they can be utilized for rehabilitation purposes, with the specific focus on the return to sport progression of professional athletes post-ACL reconstruction. Ryan will review the basic anatomy of the knee, specifically the anterior cruciate ligament and its function in the stability of the knee. He will demonstrate specific hydrotherapy protocols and exercises used to address typical muscular and neurological deficits that occur after ACL reconstructive surgery. The primary population discussed will be professional baseball players, with programs specific to both pitchers and position players covered.
"Timeline for return to play is still 6-9 months, however utilizing the pool tends to help keep the player's return closer to the 6 month schedule. There is better transition with functional return to play activities using the pool to reinforce neuromuscular recruitment patterns earlier." - Ryan Bitzel
As a result of attending this webinar, attendees will learn:
The role of the anterior cruciate ligament in the function of the knee

How the properties of water can be used for post-ACL reconstruction rehabilitation

Specific hydrotherapy protocols for ACL recovery, focused on baseball players
What Past Webinar Attendees are Saying:
"Good seminar over all. This would be a great resource for AT educational programs."
"Great job and very informative!"

"Please continue with the webinars. They are very informative!"
"I think this was an excellent webinar!"
"You guys did a very nice job! Thank you for the webinar!"
SPEAKER BIO:
Ryan Bitzel is entering his 6th season as the Rehabilitation Coordinator for the San Diego Padres baseball organization. He performs all of the daily treatments with players who have required surgery or have a long-term injury until they are ready to return to play. He specializes in the rehabilitation of elbow UCL reconstructions and a variety of shoulder surgeries, as well as throwing programs and aquatic therapy.

Prior to joining the Padres, Ryan was a staff physical therapist at Proaxis Therapy at the Steadman-Hawkins Clinic of the Carolinas in Spartanburg, SC. He earned a master's degree in physical therapy from Walsh University in North Canton, OH in 2006. During this time, he also served an internship with the Houston Astros. Ryan is originally from Massillon, OH and currently resides in Peoria, AZ, home of the Padres' spring training complex.