The Changing Healthcare Environment: Is There a Role for Aquatic Therapy?
Presented By: Ted Yanchuleff, PT, ATC Manager of Outpatient Rehab Services for the Pinnacle Health System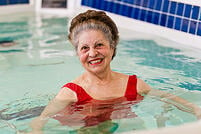 This webinar attempts to address some of the implications on an aquatic therapy program associated with the integration of the Affordable Care Act into the United States Healthcare delivery system. This period of time is being called the "white water" of American healthcare with rapidly changing regulatory and reimbursement scenarios. The Act contains various reforms that when implemented, will significantly impact and change the risk/reward concepts for healthcare organizations, including physical therapy and rehabilitation departments, throughout the United States.
The webinar will highlight concepts of an integrated care delivery network and will conclude with discussion of the development of Accountable Care Organizations in this changing environment. The webinar will explore what role aquatic therapy can play in this environment and will discuss potential benefits that aquatic therapy may offer Accountable Care Organizations including better patient outcomes, decreased readmissions, increased compliance and the ability to progress patients through the entire spectrum of care.


Attendees will learn:
the concept and development of ACO organizations
the role aquatic therapy can play in this new environment
the potential benefits aquatic therapy may offer
the implications that the Affordable Care Act may have on an aquatic therapy program