Balance Training with Aquatic Therapy for the Older Adult
Presented by: Tony Pazzaglia , PT, DPT, OCS, ATC, CEO of Terrapin Physical Therapy, Inc.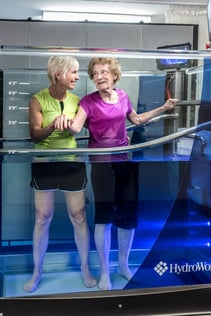 In biomechanics, balance is an ability to maintain the line of gravity of a body within the base of support with minimal postural sway. As adults age, gait and balance disorders become increasingly common and are a major cause of falls within this population. With over 10,000 Baby Boomers turning 65 every day, there is a growing need for effective fall prevention and treatment.

In this webinar, Tony Pazzaglia, CEO of Terrapin Physical Therapy, will discuss how he has found aquatic therapy to be effective in improving balance for seniors at risk for falls. He will review the balance problem and who is most at risk. He will identify the other factors, besides age, that influence balance. He will share the strategies that he has found to be effective in addressing balance issues and ways to train older adults to thrive using aquatic therapy. He will also discuss how he has created a successful cash pay aquatic program for Baby Boomers who simply want more mobility.


attendees will learn:
The balance problem for older adults and additional risk factors

Strategies to improve balance and prevent falls using aquatic therapy

How to create cash pay programs for older adults who want to improve mobility

What Past Webinar Attendees are Saying:
"Please continue with the webinars. They are very informative!"
"I think this was an excellent webinar!"
"You guys did a very nice job! Thank you for the webinar!"
SPEAKER BIO:
Tony Pazzaglia is the CEO of Terrapin Physical Therapy, Inc. Tony earned his Bachelor of Arts degree in Physiology of Exercise/Athletic Training from California State University, Chico. He earned a Bachelor of Science in Physical Therapy from California State University, Sacramento. He earned a Doctor of Physical Therapy from the EIM Institute of Health Professions. Tony is a Board Certified Orthopedic Clinical Specialist, Clinical Physical Therapy Instructor, Athletic Trainer and Massage Practitioner and has completed the Executive Private Practice Management Curriculum. Tony is a member of the American Physical Therapy Association, the Orthopedic and Private Practice Sections and the California Physical Therapy Association. Tony has clinical experience in a wide range of settings including in aquatic therapy, geriatric rehabilitation, orthopedic manual physical therapy and as an athletic trainer for CSU Chico and Monterey Peninsula College.