Use of aquatics for balance and strength training programs
May 12, 2016 from 1:00-2:00pm EDT
Presented By: Rachel McDermott, PTA, Director of Rehabilitation at Stonehill Care Center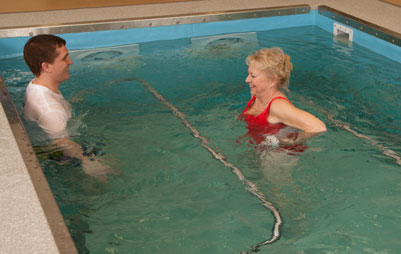 Water is a versatile training medium that is ideal for low-functioning adults as well as people seeking to be challenged with additional exercise formats. Discover aquatic training ideas for older adults who have balance and strength deficits that in turn lead to difficulties with activities of daily living (ADLs), encouraging them to use the safety of the aquatics environment because it reduces risk of falls. Explore how these protocols fit into an integrated program that includes therapy, wellness, land and water--enabling exercisers to progress to land-based activities so they can transfer their skills to firm ground.
As a result of attending this webinar, attendees will learn:
Apply specific protocols for each level of balance training.

Identify timing for progressing clients.

Transfer exercises performed in the water to land.
What Past Webinar Attendees are Saying:
"Good seminar over all. This would be a great resource for AT educational programs."
"Great job and very informative!"

"Please continue with the webinars. They are very informative!"
"I think this was an excellent webinar!"
"You guys did a very nice job! Thank you for the webinar!"
SPEAKER BIO:
Rachel McDermott, PTA, is the director of rehabilitation at Stonehill Care Center, a continuing care (CCRC) location that combines short-term rehabilitation services with long-term care and an outpatient center. Rachel's experience is in acute, skilled and outpatient rehab with the primary focus on creative and progressive forms of therapy within an aquatics setting. Rachel also is the owner and operator of Home Instead Senior Care in Indiana, a non-medical home care.