Bilateral Total Hip Replacement: An Aquatic Therapy Case Review

Presented By: Mark Glod, PTA at Peak Performance Physical Therapy in Lynbrook, NY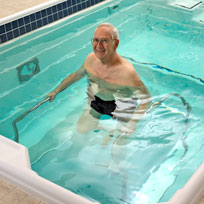 In this webinar, Mark Glod, PTA, will present the case study of a bilateral total hip replacement rehabilitation using aquatic therapy. Mark will discuss the aquatic therapy program at Peak Performance, including the different conditions and injuries they commonly treat and the properties of water that make it effective for the populations they serve.
During this webinar, Mark will:
Review the case history of the bilateral total hip replacement, including measurements taken during initial evaluation

Share the timeline of the rehabilitation, including specific exercises and protocols used in the water

Review the outcomes of the rehabilitation, including post-recovery achievements, improvements and personal goals met
Peak Performance Physical Therapy is a multi-disciplinary physical therapy organization operating four clinics in Nassau County, NY. With a multitude of specialists, they treat a wide range of conditions including orthopedic sports injuries, spinal injuries, vestibular and balance problems, as well as musculoskeletal and neuromuscular conditions. Their mission is to provide the highest level of care and to return their patients to their maximal capacity as quickly as possible.
*Continuing Education (you must attend the live webinar in its entirety):

Athletic Trainers: One CEU available for Athletic Trainers through BOC
All Others: Certificates will be available if you wish to petition your certification agency for CEUs.