Rehabilitation of Offensive LinemAn utilizing aquatic therapy following syndesmotic ankle reconstruction
Presented By: Brian Lund, MS, ATC, LAT, Assistant Athletic Trainer for Football, University of Wisconsin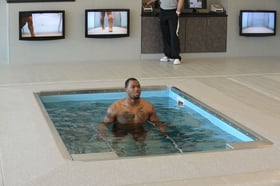 In this webinar, Brian Lund, MS, ATC, LAT, Assistant Athletic Trainer for Football, will review the unique rehabilitation methods utilized to treat a University of Wisconsin football player after syndesmotic ankle reconstruction.
Brian will begin by reviewing the various facilities and tools at the disposal of the University of Wisconsin sports medicine team used to treat a variety of injuries. Specifically, he will focus on the various ways that hydrotherapy is used by the staff to benefit their student athletes.
Brian will then share the case study of an offensive lineman who suffered multiple severe ankle injuries and ultimately required ankle reconstruction with a tight rope. He will review the case history, injury diagnosis and surgery. He will then discuss the rehabilitation progression, including pictures and video to demonstrate specific exercises used in the water, as well as pros and cons of each exercise.
He'll finish the presentation by sharing the outcomes of the athlete's rehabilitation and his post-recovery achievements.
Brian's presentation will be followed by a 15-20 minute Q&A session which will allow the audience to ask the presenter questions relative to the case study and his experience with aquatics.
From this webinar, attendees will learn:
How the University of Wisconsin Sports Medicine Team uses hydrotherapy to treat injured athletes


Some of the unique rehabilitation methods Brian uses with his players

The case history and rehabilitation progression of a player after ankle reconstruction

Specific exercises used during this player's rehabilitation

What Past Webinar Attendees are Saying:
"Good seminar over all. This would be a great resource for AT educational programs."
"Please continue with the webinars. They are very informative!"
"You guys did a very nice job! Thank you for the webinar!"
SPEAKER BIO:
Brian Lund joined the University of Wisconsin Sports Medicine staff in the summer of 2012 and provides athletic training coverage for the UW football team. Prior to his time at Wisconsin, Brian served as an athletic trainer at Indiana University for 8 years working with football and at Buena Vista University in Storm Lake, Iowa for 5 years.
Brian received his master's degree in kinesiology from Indiana University in 1999 and his bachelor's degree in exercise and sports science from the University of Wisconsin – LaCrosse in 1998.
Lund is a State of Wisconsin Licensed Athletic Trainer and a certified member of the National Athletic Trainers' Association. Brian and his wife Melissa reside in Waunakee with their twin daughters Anna and Madelyn.