Creating a Successful Aquatic Therapy Program THROUGh Teamwork
Presented By: Brian Howells, PT, MS, MCMT, Director of Rehabilitation Services at Via Christi Health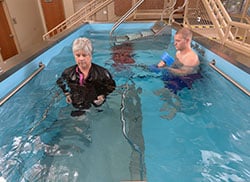 When planning a new aquatic therapy program, organizations typically consider equipment, fundraising and financials, but one often overlooked element is the team of people that will contribute to its success. In this webinar, Brian Howells, Director of Rehabilitation Services at Via Christi Health in Manhattan, KS, will share strategies for creating a cohesive team to ensure a thriving aquatic therapy program. Brian will discuss how Via Christi has been able to develop and maintain a robust aquatics program serving up to 14 patients per day with great teamwork as well as improvements made over the past 5 years to ensure continued growth and utilization.
In this webinar, Brian will review:
What it took to convince administrators to make the initial investment in aquatic therapy.

The ways that staff was involved in program planning in order to make sure they felt engaged in the process.

How marketing personnel were utilized early on to get the word out about the new program.

Ways to foster mutually beneficial relationships with patients and referrers.
Attendees will learn how to assemble a strong, diverse and focused team to increase the odds of reaching aquatic therapy goals.
What Past Webinar Attendees are Saying:
"Please continue with the webinars. They are very informative!"
"I think this was an excellent webinar!"
"You guys did a very nice job! Thank you for the webinar!"
SPEAKER BIO:
Brian Howells has been a physical therapist for more than 15 years. He has served as a physical therapist at Via Christi Hospital in Manhattan, KS since 2005 and is currently the Director of the Rehabilitation Services Department – a position he has held since 2012.
In this position, Brian oversees physical therapy, occupational therapy, speech language pathology, cardiac rehabilitation, across 4 locations. Prior to his time at Via Christi, Brian was Senior Physical Therapist at Terence Cardinal Cooke Health Care Center in New York City. Brian received a Bachelor of Science degree in Physical Therapy from University of Hartford and a Master of Science degree in Health Care Administration from Capella University. Brian is an APTA Certified Clinical Instructor and has received a Mastery Certification in Manual Therapy in 2008. He has been a member of the APTA's Aquatic Therapy section since 2013.