Utilizing Aquatic Therapy for Groin Injury: A Case Review
Presented By: Todd Lewarchick, PT, DPT, OCS, FAAOMPT, Outpatient Rehabilitation Manager, Cleveland Clinic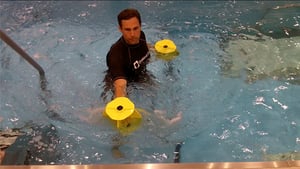 Groin injuries range in type and severity, often in the form of a strain or pull. Osteitis pubis is a specific groin condition that can occur as an inflammatory process in athletes and one that can linger and return if not treated properly. Traditionally, rest and time have been prescribed as the primary healing methods. However, aquatic therapy has been found to be an effective tool in the rehabilitation of this injury, especially early in the recovery process. It can be used to alleviate pain, correct the mechanical problems that precipitated the injury and strengthen the affected muscles.
In this webinar, Todd Lewarchick, Outpatient Rehabilitation Manager at the Cleveland Clinic, will present the case study of the rehabilitation of a high school athlete who was diagnosed with osteitis pubis while pursuing a Division I football scholarship. Todd will review the case history of this athlete including signs and symptoms of the injury and diagnosis. He will discuss why aquatic therapy was utilized for this athlete and will outline the progression of aquatic therapy protocols as part of the overall rehabilitation process. Using video, Todd will demonstrate several specific exercises that were used as part of the aquatic therapy progression. He will share the clinical outcomes of this rehabilitation and results this athlete was subsequently able to achieve.
ATTENDEES Of This Webinar Will Learn:
Advantages of using aquatic therapy due to land therapy's limitations for osteitis pubis

Progression of land and aquatic therapy protocols used for this diagnosis

Specific aquatic exercises used to improve function, stabilization and strength

What Past Webinar Attendees are Saying:
"Please continue with the webinars. They are very informative!"
"I think this was an excellent webinar!"
"You guys did a very nice job! Thank you for the webinar!"
SPEAKER BIO:
Todd Lewarchick has been the Outpatient Rehabilitation Manager for the Cleveland Clinic for 10 years. In this role, Todd is responsible for managing daily operations of various outpatient departments and providing direct patient care. He develops new therapy programs including concussion, vestibular, lymphedema, aquatic therapy, golf rehab, throwing analysis and injury prevention. Prior to his role as Outpatient Rehabilitation Manger, Todd was a physical therapist at the Cleveland Clinic and Banyan Tree Rehab for 5 years.
Todd earned a Bachelor of Applied Science Degree in Biology, Biological Sciences and Environmental Science from Ohio University and a Doctorate of Physical Therapy from Slippery Rock University. Todd is a fellowship-trained Certified Manual Therapist and a Board Certified Orthopedic Specialist. He is certified in dry needling and a co-developer of a Low Back Pain Care Path. Todd is a guest lecturer at Slippery Rock University, a faculty mentor through the Manual Therapy Institute and an assistant lecturer of the Mid-Atlantic Therapy Consultants.