Utilizing Aquatic Exercise for Core Stability
Presented By: Murphy Grant, MS, LAT, PES, CES, Assistant Athletic Director - Sports Medicine and Head Football Athletic Trainer at University of Kansas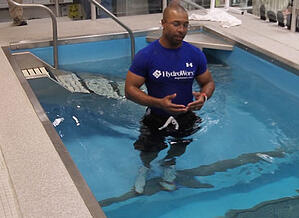 In this webinar, Murphy Grant, MS, ATC, PES, CES, Head Football Athletic Trainer at the University of Kansas, will provide ideas for using the benefits of water for core stability exercises as they relate to sports-related activity. The presentation will include practical exercises for stabilizing and strengthening the core and the applicable speed, depth, and progression for each exercise. This webinar will provide specific strategies for developing a core stability program emphasizing the use of aquatic therapy as a medium to implement them. The strategies are developed to safely, efficiently and effectively bridge the challenging gap between rehabilitation and performance.
learning Objectives:
Implement a systematic approach to core training in the water

Practice aquatic techniques to work around specific contraindications

Apply effective core stabilization exercises to prepare athletes for multi-directional movements

Employ strategies to gain and maintain core strength while minimizing residual soreness
Do not limit yourself to utilizing the dynamic properties of water strictly for rehab purposes! Learn to elevate your healthy athletes' training and recovery to a new level by taking the workout to the pool. Sometimes you need something different to challenge your athletes so they don't get bored, stale or hit a plateau. The key is to do this without sacrificing the high performance training that they need to excel in their sport. Hydrotherapy can be the missing piece to the training and recovery puzzle. Watch this webinar to see exactly how!



Continuing Education: This course is intended for athletic trainers. 1 CEU is available through the BOC for athletic trainers who watch the live webinar in its entirety.
What Past Webinar Attendees are Saying:
"Good seminar over all. This would be a great resource for AT educational programs."
"Great job and very informative!"

"Please continue with the webinars. They are very informative!"
SPEAKER BIO:
Murphy Grant, who has been a Division I athletic trainer for ten years, is in his eighth year as head football athletic trainer and his sixth as Director of Sports Medicine at the University of Kansas. Grant came to KU after five years as the athletic trainer for the men's basketball program at Oklahoma State. He also served as the Cowboys' strength and conditioning coach for two seasons.

Grant attended Quincy (IL) University, where he was a member of the football team from 1992-96. He graduated with a degree in athletic training in 1997. Murphy then went to Illinois State, where he served as a graduate assistant in the athletic training department while receiving his master's degree in exercise science in 1999. The following summer, he spent one season working with the Boston Red Sox rookie league team. Prior to arriving at OSU, Murphy served two years as head athletic trainer at Missouri Valley College.

In his career, Murphy has been involved in exciting postseason success. While at OSU the Cowboys basketball team advanced to the Final Four, as well as a Sweet 16 appearance. He has been a part of back-to-back bowl games with Kansas football.

In addition to his athletic training work at OSU and Kansas, Grant has also worked with the television show The Biggest Loser, designing workout programs for its contestants, specifically regimens affiliated with HydroWorx. Additionally, Grant has spent time working with the Chelsea Football Club of the English Premiere League and also Major League Baseball's Washington Nationals. With his vast knowledge of aquatic therapy, he has been a lecturer at several aquatic based seminars.