Geriathletics: Training Competitive Athletes over 65 with high Intensity underwater
Presented By: Mike Studer, PT, MHS, NCS, CEEAA, CWT, CSST, President and Co-Owner of Northwest Rehabilitation Associates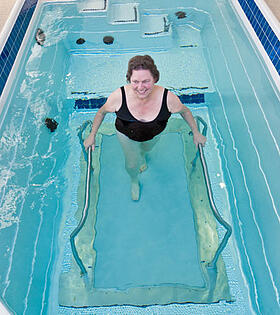 In this webinar, Mike Studer, president and co-owner of Northwest Rehabilitation Associates, will share strategies for testing and individualizing aquatic programs for senior athletes engaged in running, triathlons and other competitive efforts. This program combines evidence from literature on using aquatics for Olympic, professional and collegiate athletes with that of aging high-level endurance athletes to create the optimal training environment for those senior "GeriAthletes" over 65 years of age. Mike will also include in his presentation ideas for marketing and implementing these programs – an all too frequent daunting barrier to implementing the evidence – by offering services through third party reimbursement, private pay, consultation, or even as a capitated contractor.
Mike's presentation will be followed by a 15-20 minute Q&A session which will allow the audience to ask the presenter questions relative to the case study and his experience with aquatics.
As a result of attending this webinar, attendees will learn:
How to design training programs tailored to aging athletes

Evidence that supports water as an ideal environment for training athletes of all levels and ages

Practical ideas for implementing and marketing newly created training programs
What Past Webinar Attendees are Saying:
"Good seminar over all. This would be a great resource for AT educational programs."
"Great job and very informative!"

"Please continue with the webinars. They are very informative!"
"I think this was an excellent webinar!"
"You guys did a very nice job! Thank you for the webinar!"
SPEAKER BIO:
Mike Studer, PT, MHS, NCS, CEEAA, CWT, CSST, received his physical therapy degree from the University of Missouri-Columbia in 1991. He received his post-professional MHS degree in physical therapy with neurologic emphasis from the University of Indianapolis. He has been board-certified as a Clinical Specialist in Neurologic Physical Therapy since 1995 and has been designated a Certified Exercise Expert in the Aging Adult (CEEAA) by the Geriatric Section of the APTA. Mike has served as the vice-president of the Neurology Section of the APTA and has been the chair of several special interest groups including the Practice Committee of the Academies of Neurology and Geriatric PT. He is a full-time treating therapist at, and founder of, Northwest Rehabilitation Associates in Oregon. Mr. Studer has presented courses and published articles on neurologic and geriatric rehabilitation since 1995 and has authored or co-authored several book chapters as well. Mike is now regularly a guest lecturer on an international basis at several universities and national meetings on the topics of balance, motor control, motor learning, cognitive impairment and case management. He was awarded the 2011 Clinician of the Year by the Academy of Neurologic Physical Therapy – a section of the American Physical Therapy Association – and the same award by the Academy of Geriatric PT – making him the first to receive this national distinction from each section.