USE OF AQUATICS FOR RECOVERY AND REGENERATION
Presented By: Lance Walker, Director of Performance at Michael Johnson Performance
and Brian Abadie, Performance Specialist at Michael Johnson Performance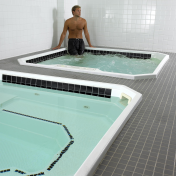 The session is designed to inform the participant of how the use of aquatic therapy during recovery periods can revitalize and amplify athletic performance.
According to the Institute for Integrative Healthcare Studies, the use of contrasting temperatures – also known as contrast therapy – has been used as a healing tool for thousands of years. The contrast between heat and cold is believed to exert a physiological effect on the body's pain mechanism.
In this webinar Lance and Brian will share ways to reduce soreness and enhance muscle recovery in your athletes using water therapy. They will demonstrate how water therapy has given their athletes at Michael Johnson Performance an edge by performing recovery exercises in the pool to actively flush the body, add additional caloric 'burn' to the weekly microcycle and incorporate joint motion in deloaded states.
Attendees will learn how they can see better outcomes by utilizing active recovery in the water rather than passive recovery during breaks from intense training sessions in order to keep the muscles moving as they heal from exercise-induced microscopic tears.
Following this presentation viewers will be able to:
Increase athletic performance using aquatic therapy during recovery periods.
Achieve better outcomes by using active recovery vs passive recovery in the water.
Successfully utilize contrast therapy to reduce pain.