The Hydrotherapy Toolkit: An Equipment Guide to Elevate Rehab
Presented by: Collin Francis, MS, ATC, LAT, Assistant Football Athletic Trainer at Indiana University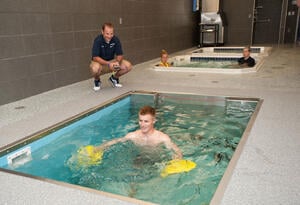 The best aquatic therapists are only limited by their imaginations. To achieve the best possible outcomes, create variation and keep patients and athletes engaged in therapy sessions, many therapists and athletic trainers utilize a wide array of tools and aids.
In this webinar, Collin Francis, Assistant Football Athletic Trainer at Indiana University, will share the various tools that he uses to make the most of aquatic sessions with his athletes. Collin will discuss how to take advantage of built-in pool features such as underwater treadmills and resistance jets to perform functional exercise in the water. He will describe how he incorporates swimming aids, float belts and weights to add variety to workouts.
Collin will share ideas for fun and effective sport-specific training incorporating footballs, tennis balls and jump training tools. He will also discuss other creative methods like incorporating music into exercise protocols. These strategies will be demonstrated by pictures and video of specific exercises.
attendees will learn:
How to utilize tools to add variety to aquatic workouts

How to analyze sport specific behavior to make aquatic rehab more functional

How to incorporate technology to improve rehab outcomes
What Past Webinar Attendees are Saying:
"Please continue with the webinars. They are very informative!"
"I think this was an excellent webinar!"
"You guys did a very nice job! Thank you for the webinar!"
SPEAKER BIO:
Collin Francis is an Assistant Football Athletic Trainer at Indiana University where he assists the Head Athletic Trainer in all of his duties and is also the Director of Rehab for the football team. He came to Bloomington after serving two years as the Head Football Athletic Trainer at Morgan State University in Baltimore, MD.
Before going to Morgan, he worked for the Carolina Panthers of the National Football League where he assisted the Head Athletic Trainer in all aspects of his job including rehabilitation program development.
Collin completed his Masters of Science Degree in Youth Development Leadership at Clemson University. While attending Clemson University he also served as a Graduate Assistant Athletic Trainer for the football team and the swimming and diving teams.
Collin earned his Bachelors of Science Degree in Athletic Training from the University of Delaware. While there he also served as a Summer Camp Intern for the San Diego Chargers of the National Football League. He served as a Student Athletic Trainer for all of University of Delaware's Intercollegiate Athletic Teams.
Collin works for the USA Swimming National Team as an Athletic Trainer and Medical Consultant. He was on the staff for the 2013 World University Games in Kazan Russia.