Journey to a Multidimensional Wellness Program
April 4, 2017 from 1:00-2:00pm EDT
Presented By: Laura Husak, Life Enrichment Coordinator at Carolina Village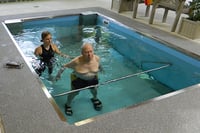 Your location may have classes and activities in place, but do they all work together as a unified program? In this case study, Laura Husak, Life Enrichment Coordinator at Carolina Village will share how she was able to bring to life the vision of a program based in eight dimensions of wellness by coordinating resident-led and staff-led programs.
With the goal of placing engagement, recreation and fitness on a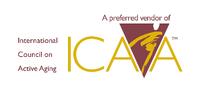 single schedule to balance offerings in each dimension, the building blocks include outreach, partnering and marketing. Learn how to overcome roadblocks and engage staff and participants. You'll see how effective marketing and staffing can encourage residents to try aquatic exercise. Discover how blending resident involvement with staff support can increase participation in aquatic programs.
Attendees of this webinar will learn:
Key decisions when building a program based on eight dimensions of wellness

Marketing techniques to encourage participation

Approaches that build buy-in from senior management, staff and residents

Strategies for improving participation in aquatic programs
What Past Webinar Attendees are Saying:
"Great job and very informative!"

"Please continue with the webinars. They are very informative!"
"I think this was an excellent webinar!"
"You guys did a very nice job! Thank you for the webinar!"
SPEAKER BIO:
Laura Husak is the Life Enrichment Coordinator at Carolina Village, a continuing care community in Hendersonville, North Carolina. Husak brought 17 years of experience as an athletic trainer at Hendersonville Sports to her role. She graduated from Appalachian State University with a Bachelor's degree in health promotion and a minor in sports medicine.