Creating and Documenting Measurable Functional Progress with Aquatic Therapy
Presented By: Kathleen Dwyer, OTR/L, CHT, Occupational Therapist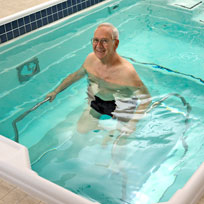 In this webinar, Kathleen Dwyer, OTR/L, CHT, will discuss the ways to make aquatic therapy not only fun for your patients, but a way that you can facilitate the measurable functional progress that is required for insurance reimbursement.
Kathleen has been working with using aquatic therapy as an intervention for patients for over ten years. She is an Occupational Therapist that has served in various therapy leadership roles and has experience with both billing for aquatic therapy and audits for services rendered within an aquatic therapy environment.
In thiS Webinar, Attendees will:
Gain an understanding of the requirements of documentation for aquatic therapy

Obtain ideas of how to prove aquatic therapy interventions are assisting with measurable functional progress

Understand key areas to be sure to include in documentation to ensure payment

.
What Past Webinar Attendees are Saying:
"Please continue with the webinars. They are very informative!"
"I think this was an excellent webinar!"
"You guys did a very nice job! Thank you for the webinar!"
SPEAKER BIO:
Kathleen Dwyer is an occupational therapist who has worked in acute care, outpatient rehabilitation, and skilled nursing rehabilitation settings. Her background includes being a director of therapy and a regional director of therapy. Kathleen graduated from Eastern Michigan University with a Bachelor of Science degree in Occupational Therapy in 1999. She has had the opportunity to open two aquatic therapy centers from the ground up and she is working toward opening her third site in March. She has personally incorporated aquatic therapy interventions into the treatment plans for her patients and has seen the benefits of aquatic therapy first hand.