The Rehabilitation of a Professional Baseball Player Post-op SLAP Repair Incorporating the Use of Aquatic Therapy
Presented By: Ryan Bitzel, MPT, Rehabilitation Coordinator for the San Diego Padres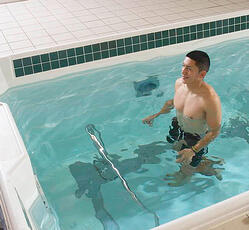 In this webinar, Ryan Bitzel, Rehabilitation Coordinator for the San Diego Padres, will present a case study of the rehabilitation of a professional athlete recovering from shoulder labral repair surgery. Ryan will briefly review the basic anatomy of the shoulder and the differences that occur with overhead throwing athletes compared to the general population. Ryan will also discuss the basic anatomy of the labrum, the mechanism for labral injuries and the clinical signs and symptoms associated with labral injuries. Ryan will review the phases of post-op rehab for this injury and where aquatic therapy fits in. Ryan will then present a case study of a professional baseball player's post-op SLAP repair rehabilitation protocol, specifically focusing on how aquatic therapy was utilized within that rehabilitation. Ryan will share examples of specific aquatic exercises that were used to successfully advance the rehabilitation of this athlete.
learning Objectives:
Identify how the unique properties of water are beneficial to shoulder rehabilitation after surgery

Identify the phases in which aquatic therapy can effectively be utilized in the SLAP repair rehabilitation progression

Apply new aquatic exercises that can enhance the rehabilitation of shoulder labral repair surgery
What Past Webinar Attendees are Saying:
"Good seminar over all. This would be a great resource for AT educational programs."
"Great job and very informative!"

"Please continue with the webinars. They are very informative!"
"I think this was an excellent webinar!"
"You guys did a very nice job! Thank you for the webinar!"
SPEAKER BIO:
Ryan Bitzel is completing his 6th season as the Rehabilitation Coordinator for the San Diego Padres baseball organization. He performs all of the daily treatments with players who have required surgery or have a long-term injury until they are ready to return to play. He specializes in the rehabilitation of elbow UCL reconstructions and a variety of shoulder surgeries, as well as throwing programs and aquatic therapy.

Prior to joining the Padres, Ryan was a staff physical therapist at Proaxis Therapy at the Steadman-Hawkins Clinic of the Carolinas in Spartanburg, SC. He earned a master's degree in physical therapy from Walsh University in North Canton, OH in 2006. During this time, he also served an internship with the Houston Astros. Ryan is originally from Massillon, OH and currently resides in Peoria, AZ, home of the Padres' spring training complex.