Aquatic Applications for Cancer Rehabilitation
Presented By: Elizabeth McDonald, CPTA, Director of Therapy Services and Cardiac Rehab at Gove County Medical Center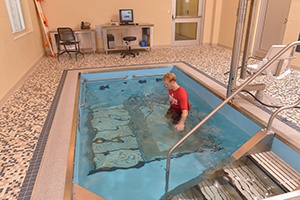 The benefits of exercise for those undergoing cancer treatments are well known. Most doctors want their patients to start an exercise program to get their heart and lungs going to push medication into their system while reducing its long-lasting negative effects. However, many patients lack the strength and energy for most types of exercise.
In this webinar, Elizabeth McDonald, Director of Therapy Services at Gove County Medical Center, will explain how aquatic therapy can be a useful tool in the cancer therapy realm. She will describe how she has gradually incorporated aquatic therapy into the hospital's cancer rehabilitation program over the past year. She will share how to apply specific cardio and strengthening exercises for patients that do not have the strength and ability to perform traditional "land" therapy during cancer rehabilitation.
Discussion with evolve from what their overall cancer rehabilitation program entails to how aquatic therapy being interjected into the program has enabled some of their patients to continue their treatment.
Attendees will learn:
The details of the cancer rehabilitation program that Gove County Medical Center has developed.

The properties of water that have a positive effect on cancer patients.

Specific aquatic exercises that are used in cancer rehabilitation protocols.

How research-based studies have shown improvements made in cancer rehabilitation methods.
What Past Webinar Attendees are Saying:
"Please continue with the webinars. They are very informative!"
"I think this was an excellent webinar!"
"You guys did a very nice job! Thank you for the webinar!"
SPEAKER BIO:
Elizabeth McDonald is the Director of Therapy Services and Cardiac Rehab at Gove County Medical Center in Quinter, KS. Elizabeth has been a CPTA for 21 years and the director of Gove County Medical Center's therapy program for 15 years. She started the hospital's cardiac rehab program in 2005, and the aquatic therapy program and cancer rehab program in 2010. She has been a student clinical instructor since 2008. Elizabeth is a member of AACVPR and MOKSAACVPR as well as the Aquatic Section of the APTA. She has taken MFR I and II classes from John F. Barnes and currently practices MFR. Elizabeth graduated from Colby Community College in 1995 and went on to get her Bachelor of Science degree from Pima Medical Institute – Tucson in 2015. She holds certifications in BLS and ACLS and has been a Falling Less in KS trainer since 2013.