Utilizing Pain Neuroscience with Aquatic Therapy to Address Low Back Pain
Presented by: Todd Lewarchick, PT, DPT, OCS, FAAOMPT, Outpatient Rehabilitation Manager, Cleveland Clinic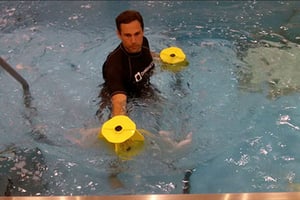 In this webinar, Todd Lewarchick, Outpatient Rehabilitation Manager at the Cleveland Clinic, will focus on pain neuroscience and how it can be used as a treatment strategy in tandem with aquatic therapy to address low back pain.

Todd will offer a baseline understanding of pain neuroscience education, including evidence of its use as a treatment strategy and how clinicians can determine which patients are appropriate candidates. He will analyze the complexity of pain and fear and the relation of cognition to the pain experience as well as the impact that language and communication can have on pain.

Todd will review the current best evidence in guiding clinicians treating patients with persistent pain with a focus on the low back. There will be a discussion on the literature to support unloading and how the properties of water can help get patients moving to counteract their pain and improve function. He will describe how video feedback can assist with pain by helping with somatosensory re-organization. Todd will also demonstrate how graded activity in the water can assist with low back pain and will share examples of aquatic exercises that can be used to that effect.



attendees will learn:
How pain neuroscience can be used as a treatment strategy for low back pain

The relation of cognition to pain and impact of language and communication on pain

Effective use of aquatic therapy to assist with low back pain and improve function

What Past Webinar Attendees are Saying:
"Please continue with the webinars. They are very informative!"
"I think this was an excellent webinar!"
"You guys did a very nice job! Thank you for the webinar!"
SPEAKER BIO:
Todd Lewarchick has been the Outpatient Rehabilitation Manager for the Cleveland Clinic for 10 years. In this role, Todd is responsible for managing daily operations of various outpatient departments and providing direct patient care. He develops new therapy programs including concussion, vestibular, lymphedema, aquatic therapy, golf rehab, throwing analysis and injury prevention. Prior to his role as Outpatient Rehabilitation Manger, Todd was a physical therapist at the Cleveland Clinic and Banyan Tree Rehab for 5 years. Todd earned a Bachelor of Applied Science Degree in Biology, Biological Sciences and Environmental Science from Ohio University and a Doctorate of Physical Therapy from Slippery Rock University. Todd is a fellowship-trained Certified Manual Therapist and a Board Certified Orthopedic Specialist. He is certified in dry needling and a co-developer of a Low Back Pain Care Path. Todd is a guest lecturer at Slippery Rock University, a faculty mentor through the Manual Therapy Institute and an assistant lecturer of the Mid-Atlantic Therapy Consultants. He was also certified in Pain Neuroscience Education in 2017.