Innovative Co-Treatment of Rett Syndrome in an Aquatic Environment
Presented By: Leeann Smith, PTA, Maura Rabe, OTR/L and Kiley Goff, MSEd, CCC-SLP at Lexington Regional Health Center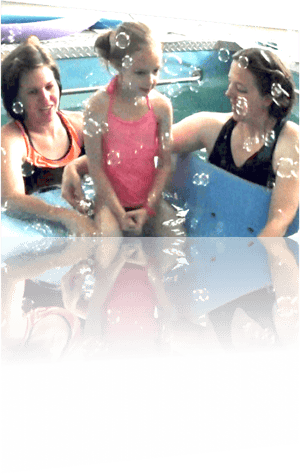 Rett Syndrome is a neurological disorder caused by a mutation on the X chromosome. It results in decreased muscle control, minimal verbal communication, and often altered sensation, among other symptoms.

In this webinar, physical therapist Leeann Smith, occupational therapist Maura Rabe and speech therapist Kiley Goff will share how they used an aquatic environment to provide therapy to one patient with Rett Syndrome to improve her quality of life. They will describe how physical, occupational, and speech therapies all worked together in the water to improve her communication, independence and sensory processing.

The presenters will discuss case history, treatment protocols, initial and current results. Videos and pictures will be used throughout the presentation to demonstrate the strategies used.
As a result of attending this webinar, attendees will learn:
Strategies for treating Rett Syndrome with aquatic therapy

How to combine physical, occupational and speech therapy to improve results

Case history, treatment protocols used and outcomes documented for this case study
What Past Webinar Attendees are Saying:
"Good seminar over all. This would be a great resource for AT educational programs."
"Great job and very informative!"

"Please continue with the webinars. They are very informative!"
SPEAKER BIOS:
Leeann Smith is a physical therapist assistant at Lexington Regional Health Center. She is a 1999 graduate of Northeast Community College's Physical Therapist Assistant program. Living in rural Nebraska, Leeann has had the opportunity to work in many settings. Initially traveling to area nursing homes, Leeann then began working for Lexington Regional Health Center in 2003. She has specialized in aquatic Physical Therapy for the past 13 years, but also sees patients in out-patient and in-patient settings. Leeann has a special interest in pediatrics and aquatics.
Maura Rabe, OTR/L is a Board Certified occupational therapist with 5 years of experience in a variety of clinical settings: inpatient and outpatient rehabilitation, home health and aquatics. She is a graduate of College of Saint Mary in Omaha, Nebraska. She has always had a special interest in pediatrics and neurological rehabilitation. More recently, her interest and knowledge in aquatic therapy has grown, as she has experienced significant outcomes in a variety of patient populations with aquatic based therapy.
Kiley Goff, MSEd, CCC-SLP, is a Speech-Language Pathologist for Aegis Therapies and has provided services for Lexington Regional Health Center since June 2015. She received her BSEd in 2013 and her MSEd in 2015 from the University of Nebraska-Kearney. While in school, Goff completed an undergraduate research project and a Master's thesis on reading abilities and facilitation of those abilities in elementary-aged students. Currently, Goff works in a variety of skilled nursing facilities, hospitals and with home health. She treats patients of all ages and appreciates the variety of settings which allows her to experience different diagnoses.