The Advantages of Teaching the Sprint Movement Pattern in an Aquatic Environment

Presented By: Bryan McCall, RSCC*D, Director of Performance and Brian Abadie, CSCS, High Performance Coordinator at Michael Johnson Performance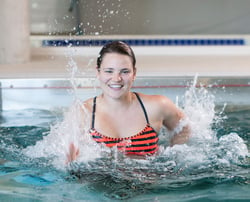 High performance athletes are always looking for unique ways to gain a competitive advantage and improve their athletic performance. The one commodity that has a resounding influence on sport success, maybe more than any other, is speed. Coaches and athletic trainers are constantly searching for the latest methods to help develop more speed.
Based on the theories of the world's leading experts, and combined with the innovation of water as a training medium, the movement pattern that defines speed will be revealed in this webinar to assist all practitioners in the execution of running faster. Specific training techniques will be demonstrated with pictures and video.
As a result of attending this webinar, attendees will learn:
What the sprint signature is

Advantages of training in an aquatic environment

Limb velocity in water compared to dry land

*Continuing Education (you must attend the live webinar in its entirety):
Athletic Trainers: One CEU available for Athletic Trainers through BOC
All Others: Certificates will be available if you wish to petition your certification agency for CEUs.
What Past Webinar Attendees are Saying:
"Good seminar over all. This would be a great resource for AT educational programs."
"Great job and very informative!"

"Please continue with the webinars. They are very informative!"
"I think this was an excellent webinar!"
"You guys did a very nice job! Thank you for the webinar!"
SPEAKER BIOS:
Bryan McCall is a Registered Strength and Conditioning Coach with Distinction (RSCC*D) which is the highest level of certification offered to strength coaches, and inclusion is by recommendation only. Bryan is currently the Director of Performance for the Michael Johnson Performance Center at Texas. His duties include managing the prestige and performance of all training programs and methods that are facilitated on and off location. Before MJP, he spent 3 years as the Director of Performance for SPIRE-MJP which is an authorized United States Olympic Training Center located in Geneva, OH.

Bryan holds a B.S. in Exercise Science from the University of Texas at Arlington and is a Certified Strength and Conditioning Specialist through the National Strength & Conditioning Association since 1999 and is Strength and Conditioning Coach Certified through the Collegiate Strength and Conditioning Coaches Association. He worked at both SMU and Florida State as an assistant strength coach, took graduate level Sports Management courses at Florida State and has over a decade of experience at the director level with private sport performance facilities.

Bryan has been in the athletic development and high performance industry for a total of 16 years. He is currently a member of the Cooper Clinic advisory board, NSCA-Ohio advisory board, member of the Nike trainers network and has been a consultant for Nike football.
Brian Abadie has nearly a decade in the field of athletic development and high performance training and has worked with athletes ranging from the elementary to professional level and sports from around the globe. Brian currently sits as the High Performance Coordinator at Michael Johnson Performance (MJP) in McKinney, TX. Overseeing the High Performance division of MJP, he develops and implements all training systems for the professional and elite athletes. This includes programming for the top leagues and associations including NFL, NBA, MLB, NHL, MLS, as well as college programs and international groups. Brian is also the Director of NFL Combine and Pro Day and has produced some of the fastest tested athletes to ever run at the NFL Combine in Indianapolis. Professional and elite programs specialize in unique sport-relevant speed and power, lifespan athletic development, preventive training prescriptions, and sports performance-based rehabilitation.

Brian has served MJP on the global division where he spent a full year in China developing Olympic level athletes from over 15 different sports, as well as lecturing on athletic development to professors and coaches. He has also spent time giving workshops and lecturing on the MJP Systems to the Trinidad and Tobago Olympic Committee. These international experiences has given Brian a broad perspective on training and culture that permeate his programs today.

Brian is a Certified Strength and Conditioning Specialist (NSCA) and Performance Enhancement Specialist (NASM). He received his undergraduate degrees in Communications and Business from Texas Christian University, where he was also a part of the TCU men's basketball team. Brian has also been a contributor of insight to Nike's innovation teams which look to MJP to bridge the gap between performance and product.