Innovative Techniques for Multidisciplinary Aquatic Therapy
Presented By: Debi Tyler, OTR/L, Director of Rehabilitation, Cedar Village Retirement Community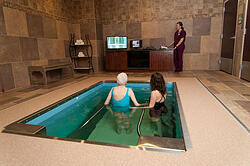 Get creative in the water! An aquatic therapy session is a perfect opportunity to combine treatment objectives of occupational therapy, physical therapy and speech therapy in unique ways. Complex patients often need the support of more than one specialist in the water and outcomes can be improved exponentially by addressing discipline-specific but overlapping goals simultaneously. In this webinar, Debi Tyler, Director of Rehabilitation at Cedar Village Retirement Community, will describe some of the more creative rehabilitation approaches her team has utilized in an aquatic environment.
Debi will discuss the distinct benefits of aquatic therapy that cannot easily be replicated on land which the therapists at Cedar Village have taken advantage of. She will share strategies and specific activities used to combine multiple therapy disciplines in an aquatic environment. The practical application of these strategies will be demonstrated with the case of a stroke patient who made substantial improvement by performing speech and aquatic therapy in tandem.
Learn several innovative treatment techniques—all facilitated by the water!
Attendees of the Webinar will learn:
Distinct benefits that aquatic therapy offers over land therapy.

Creative strategies and activities to combine occupational, physical and speech therapy with aquatics.

Practical applications of these strategies via case study.

What Past Webinar Attendees are Saying:
"Please continue with the webinars. They are very informative!"
"I think this was an excellent webinar!"
"You guys did a very nice job! Thank you for the webinar!"
SPEAKER BIO:
Debi Tyler has had over 30 years of experience in the practice of Occupational Therapy. She graduated from Tufts University-Boston School of Occupational Therapy and has worked in a variety of rehabilitation settings including acute and sub-acute hospital rehab, spinal cord rehab, home health and skilled nursing facilities. She has been at the Cedar Village Retirement Community since 2004 and in her current role as Director of Rehabilitation since 2007. She has been a part of the Dementia Leadership Team since it began at Cedar Village in 2008 and is certified as a Level 3 Dementia Specialist. She is committed to providing the best rehab outcomes possible to patients of all ages, but is particularly passionate about the care of our older adults.