THE USE OF AQUATIC THERAPY FOR NEUROLOGICAL REHABILITATION
Presented By: Jan Black MS, PT, Clinic Director at Neuroworx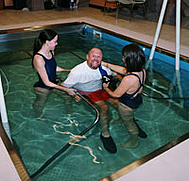 Neuroworx is an outpatient physical therapy clinic in South Jordan, UT specializing in neuro-rehabilitation of individuals with paralysis due to spinal cord injuries, brain injuries and strokes.
In this webinar, Jan Black will demonstrate the application of neurological rehabilitation principles in an aquatic environment. She will review the properties of water that are beneficial for the treatment of neurological conditions. She will also describe how aquatic therapy can be combined with other interventions such as locomotor training to accelerate progress and improve outcomes for gait, balance, kinematics and overall functional mobility. These concepts will be illustrated with a case presentation of an individual with a traumatic brain injury.
Attendees will learn:
The properties of water that are beneficial for neurological conditions

How combining other interventions along with aquatic therapy can accelerate progress

The improved outcomes that can be seen from aquatic therapy

How to implement locomotor training in an aquatic setting
The effect of these concepts on a specific case study
SPEAKER BIO:
Jan Black co-founded Neuroworx, a non-profit, state-of-the-art outpatient physical therapy clinic specializing in the treatment of spinal cord injured individuals. She serves as the Clinic Director and directs the staff of eleven and has primary responsibility for the clinic's teaching duties. She is Vice President of the Neuroworx 501 (c) 3 organization and a member of the Board of Directors.
In 2010, Neuroworx was designated as a Community Fitness and Wellness Facility under the Christopher and Dana Reeve Foundation's NeuroRecovery Network, one of only five in the country. This program focuses on treatment interventions to promote and maintain health and fitness for the SCI population. This collaborate research effort collects data to evaluate the effectiveness of the interventions. Jan is the director of this process for Neuroworx.
The majority of her practice has been focused on individuals with spinal cord injuries and similar neurological conditions. She has worked in the acute care in-patient rehabilitation setting, home health care and in outpatient facilities.