Innovative Co-Treatment Therapy Combining Physical and Speech Therapies in an Aquatic Environment
Presented By: Timothy Williams, PT, DPT, Physical Therapist and Ambyr Henderson, MS, CCC-SLP, Speech and Language Pathologist at Pullman Regional Hospital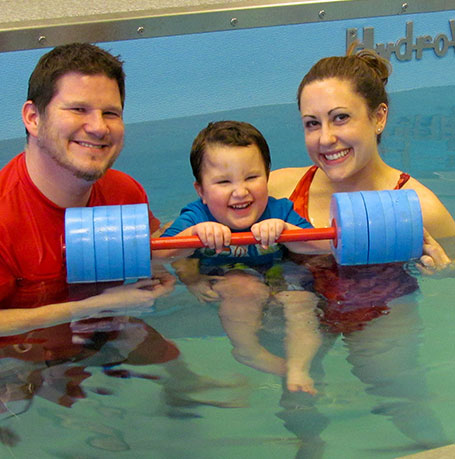 In this webinar, Timothy Williams, PT, DPT and Ambyr Henderson, MS, CCC-SLP will present an innovative co-treatment approach utilized within a therapy pool to enhance the outcomes of a child recovering from a brain tumor.

Innovative approaches to therapy are necessary to advance the patient care model, especially in pediatrics. This webinar will show how combining speech and physical therapy treatment in the pool enhanced the therapeutic process and produced exceptional rehabilitation results for one pediatric client. Case history, treatment approach, initial and current results, as well as group therapy trials will be discussed. Videos and pictures will be used throughout the presentation to demonstrate the strategies employed.
As a result of attending this webinar, attendees will learn:
Effective use and hypothetical explanations of the success of combined aquatic speech/physical therapy

Essential components of a co-treatment model in the therapy pool

Potential future applications of co-treatment therapy in the aquatic environment
This presentation will be followed by a 15-20 minute Q&A session which will allow the audience to ask the presenters questions relative to the material and their experience with aquatics.
What Past Webinar Attendees are Saying:
"Good seminar over all. This would be a great resource for AT educational programs."
"Great job and very informative!"

"Please continue with the webinars. They are very informative!"
"I think this was an excellent webinar!"
"You guys did a very nice job! Thank you for the webinar!"
SPEAKER BIO:
Timothy Williams, PT, DPT is a licensed Physical Therapist in the state of Washington. He works at Summit Therapy and Health Services with Pullman Regional Hospital in Pullman, Washington. He graduated with his Doctorate in Physical Therapy from Southwest Baptist University in 2011 and received Bachelor of Science degrees in Neuroscience and Biology with a minor in Psychology from Washington State University in 2008. Timothy's primary interests are in adult and pediatric neurological conditions, but he works with all orthopedic conditions.

Ambyr Henderson, MS, CCC-SLP is a licensed Speech and Language Pathologist also working at Summit Therapy and Health Services at Pullman Regional Hospital. She received her Master's degree in Speech and Hearing Sciences from the University of Nebraska-Lincoln in 2009 and her Bachelor of Science degree from the University of Wyoming in 2007. Ambyr has experience working in both school and outpatient settings. Her special interests include traumatic brain injury with children/young adults, telehealth, general speech and language delay/disorder, autism and early intervention.

Timothy and Ambyr were the recipients of the 2015 Healthcare Excellence in Aquatics Award for their innovative co-treatment model in a HydroWorx pool.