Strengthening Pulmonary Rehabilitation with Aquatic Therapy
Presented By: Nell Resnick, PTA, Head Aquatic Therapist at Port Charlotte Rehabilitation Center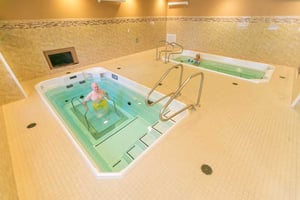 While COPD is the more prominent diagnosis, more fibrosis patients are being referred to physical therapy now than ever. Increasingly, pulmonary patients are coming to physical therapy with comorbidities such as obesity, low back pain, osteo and rheumatoid arthritis, and Fibromyalgia that further decrease their ability to exercise on land. This tends to limit their progress toward accomplishing goals.
In this webinar, Nell Resnick, Head Aquatic Therapist at Port Charlotte Rehabilitation Center, will discuss how aquatic therapy can benefit traditional pulmonary rehabilitation programs. Nell will briefly review a traditional program and then illustrate how exercising in the aquatic environment can improve the quality of life for people suffering with respiratory illnesses.
She will share a case study demonstrating how the addition of water therapy helped one patient realize his potential and meet his goals. This presentation will give several treatment ideas and suggest exercise progressions utilizing resistance equipment and features of an aquatic therapy pool to maximize the benefits for pulmonary patients.
As a result of attending this webinar, attendees will learn:
How aquatic therapy can benfit pulmonary rehabilitation programs

A case study of a patient who was able to reach goals and realize potential

Some suggested treatment ideas and exercise progressions using aquatic therapy

What Past Webinar Attendees are Saying:
"Please continue with the webinars. They are very informative!"
"I think this was an excellent webinar!"
"You guys did a very nice job! Thank you for the webinar!"
SPEAKER BIOS:
Nell Resnick has been a Physical Therapist Assistant for 20 years, working in a variety of settings across the country. Nelly currently works at the Port Charlotte Rehabilitation Center in Port Charlotte, FL where she is the Head Aquatic Therapist. Nell's passion for water led to beginning her aquatic specialization in 2010, and she became certified by the Aquatic Therapy and Rehab Institute in 2014.