Spring Sports Medicine CEU Program
Starting may 14, 2020
Presented by: Multiple Speakers Listed Below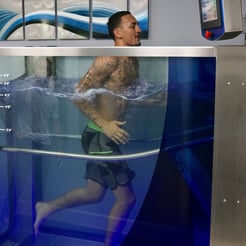 At HydroWorx, we're committed to sharing educational content on aquatics. As part of that mission, we've hosted or sponsored many webinars in the past. In an effort to supplement CEUs from any sports conferences that are being postponed or cancelled this spring, we are offering a series of webinars.
We are proud to launch a new webinar program offering athletic trainers the opportunity to earn as many as 7 continuing education hours by the end of June.

By signing up today, you will automatically be registered for all of our athletic training webinars between now and June 30. In order to keep you informed, we will send you monthly email alerts with detailed information about upcoming webinars, including presentation descriptions, dates and times.
Here are some of the speakers and topics to look forward to in the coming months:

Thursday, May 14, 2020
1:00 - 2:00pm EDT
Hydrotherapy with Collegiate and NFL Players, Presented by Collin Francis, Assistant Athletic Trainer at the Baltimore Ravens
Thursday, May 28, 2020
1:00 - 2:00pm EDT
Lines of Agility, Presented by Murphy Grant, Senior Associate Athletic Director at Wake Forest University
2:00 - 3:00pm EDT
Sprint Work, Presented by Murphy Grant , Senior Associate Athletic Director at Wake Forest University

Thursday, June 4, 2020
1:00 - 2:00pm EDT
Utilizing Aquatic Therapy for Bankart Rehabilitation, Presented by Jeremy Braziel Athletic Trainer at The Shoulder Center of Arkansas
2:00 - 3:00pm EDT
Aquatic Therapy Progression for a Return to Running and Jumping, Presented by Erin Bussin, Performance Rehabilitation Coach, Hydrotherapy Lead at Fortius Sport and Health Centre
Thursday, June 18, 2020
1:00 - 2:00pm EDT
Return to Play of an Injured Athlete, Presented by Doug Boersma, Associate Athletics Director - Sports Performance/Director of Sports Medicine at Purdue
2:00 - 3:00pm EDT
Practical Considerations to Optimize Aquatic Treadmill Training, Presented by Nick Held, Research and Development at Hydrathletics

Continuing Education: This course is intended for athletic trainers. 1 CEU per live webinar is available through the BOC for athletic trainers who watch the live webinar in its entirety.
Speaker BIo:
Jeremy Braziel, ATC, LAT, FMS, SFMA, CES, TPI-CGFI, TPI-JC2Certified Athletic Trainer, received his Bachelor's of Science in Athletic Training from Oklahoma State University before performing his graduate work at Ohio State University. Jeremy has also worked in both collegiate and professional athletics for an extensive period before joining our team at TRM. Jeremy also has held many advanced certifications in functional movement screening, golf fitness, junior development, PRI, Certified Strength and Conditioning Specialist, Corrective Exercises Specialist.
Jeremy adds a dimension to our team that is unique to today's healthcare model. He utilizes an evidence-based approach, proven successful to athletic populations. His approach to biomechanical retraining and functional movement has been very beneficial for all populations dealing with injuries. Many patients have been able to resume normal activity without surgical intervention based on a specialized exercise program to fit their needs. An evidence based approach that has been organically combined with his collegiate and professional experience enables Jeremy to offer a very exclusive and personalized approach to each patient.
His primary role at TRM is the advanced rehabilitation of athletes, primarily overhead and rotational sports. Jeremy has personally created his own throwing assessment that is grounded on years of research and experience. His goal is not to coach the pitching mechanics, however, to identify major biomechanical deficiencies that may be occurring during the throw that can lead to injury or wasted energy. This is a matchless approach and when coupled with proper exercise can lead to a more efficient recovery as well as efficient production on the field or court.
Erin Bussin, Hydrotherapy Lead | Performance Rehabilitation Coach
​​​​As part of the integrated team at Fortius Sport & Health, Performance Rehabilitation Coach, Hydrotherapy Lead​ Erin Bussin brings her experience of working with special populations in both the clinical and research setting. Erin earned her Master of Science in Rehabilitation Sciences at the University of British Columbia. Prior to Fortius, she spent 2 years in the research environment attaining skills to better help design and implement evidence-based rehabilitation programs. She is always looking for ways to expand her knowledge in health and wellness, performance, and maximizing client potential. Outside of work Erin's passion is Ultimate. Erin is an avid ultimate player, an active member in Canadian Ultimate governance, and she coaches the UBC development team in her spare time.