Spring Sports Medicine CEU Program
Starting may 14, 2020
Presented by: Multiple Speakers Listed Below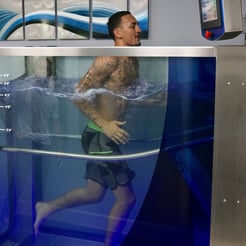 At HydroWorx, we're committed to sharing educational content on aquatics. As part of that mission, we've hosted or sponsored many webinars in the past. In an effort to supplement CEUs from any sports conferences that are being postponed or cancelled this spring, we are offering a series of webinars.
We are proud to launch a new webinar program offering athletic trainers the opportunity to earn as many as 7 continuing education hours by the end of June.

By signing up today, you will automatically be registered for all of our athletic training webinars between now and June 30. In order to keep you informed, we will send you monthly email alerts with detailed information about upcoming webinars, including presentation descriptions, dates and times.
Here are some of the speakers and topics to look forward to in the coming months:

Thursday, May 14, 2020
1:00 - 2:00pm EDT
Hydrotherapy with Collegiate and NFL Players, Presented by Collin Francis, Assistant Athletic Trainer at the Baltimore Ravens
Thursday, May 28, 2020
1:00 - 2:00pm EDT
Lines of Agility, Presented by Murphy Grant, Senior Associate Athletic Director at Wake Forest University
2:00 - 3:00pm EDT
Sprint Work, Presented by Murphy Grant , Senior Associate Athletic Director at Wake Forest University

Thursday, June 4, 2020
1:00 - 2:00pm EDT
Utilizing Aquatic Therapy for Bankart Rehabilitation, Presented by Jeremy Braziel Athletic Trainer at The Shoulder Center of Arkansas
2:00 - 3:00pm EDT
Aquatic Therapy Progression for a Return to Running and Jumping, Presented by Erin Bussin, Performance Rehabilitation Coach, Hydrotherapy Lead at Fortius Sport and Health Centre
Thursday, June 18, 2020
1:00 - 2:00pm EDT
Return to Play of an Injured Athlete, Presented by Doug Boersma, Associate Athletics Director - Sports Performance/Director of Sports Medicine at Purdue
2:00 - 3:00pm EDT
Practical Considerations to Optimize Aquatic Treadmill Training, Presented by Nick Held, Research and Development at Hydrathletics

Continuing Education: This course is intended for athletic trainers. 1 CEU per live webinar is available through the BOC for athletic trainers who watch the live webinar in its entirety.
Speaker BIo:
Doug Boersma, oversees the medical treatment, rehabilitation and pre-hab for all 18 Purdue Athletics sports programs as well as the areas of strength & conditioning, nutrition and sports psychology. He was named director of sports medicine in 2012 and promoted to assistant athletics director in 2013 and associate athletics director in 2016.

A 1997 Purdue graduate, Boersma returned to his alma mater from Bowling Green State, following stints at Kentucky and Notre Dame.

At Bowling Green State, Boersma served as head athletic trainer for football since 2003, director of sports medicine since 2005 and as assistant athletics director for sports performance since 2010. He also served as education coordinator for the Mid-American Conference Sports Medicine Association and as a part-time faculty member in the school of Human Movement, Sport and Leisure Studies at BGSU.

Boersma aided in the design and development of two state-of-the-art sports medicine facilities in Bowling Green, Ohio - the Sebo Athletic Center and the Stroh Center.

A certified member of the National Athletic Trainers' Association, Boersma entered the professional ranks after earning his bachelor's degree in athletic training at Purdue in 1997. He completed his master's degree in health promotion at Kentucky in 1999, following a two-year graduate assistantship. He then spent four years at Notre Dame before accepting the top job at Bowling Green State.

During his tenure with the Fighting Irish, Boersma designed a custom-made, online injury tracking system, which was constructed by a technology company in South Bend, Ind. He then implemented and managed that system, Shamrock Net Design, at both Notre Dame and Bowling Green State.

Throughout his athletic training career, Boersma has worked with a variety of sports. At BGSU, he worked directly with the football team and men's and women's golf teams. At Notre Dame, he worked closely with the football program, while directly overseeing the athletic training needs of the men's ice hockey, men's soccer and lacrosse programs. At Kentucky, Boersma tended to the football and women's gymnastics programs. In his stint as a student athletic trainer at Purdue, he worked with the baseball, men's basketball, football and women's tennis teams.

Boersma was recognized twice by BGSU for his commitment to the athletics department and university as a whole. In 2008, he received the athletic department's inaugural Roll Along Award, which is issued to individuals who truly understand and live the theme of "18 sports - 1 team." In 2010, he was recognized by the university's Division of Student Affairs with the Outstanding Administrative Staff Award, which is given to staff members for excellence in collaboration, professional performance, cooperation and the spirit of working together for a common purpose or goal.

A native of Highland, Indiana, Doug and his wife, Cari (also a Purdue graduate), have three daughters: McKenna, Ashlyn and Kayden.
Nick Held, Research and Development Manager
Nick brings over 5 years of experience utilizing aquatic treadmills to help aid his clients in achieving their goals in rehabilitation, training, and sport performance. He returns to Hydrathletics as the Research and Development Manager. Nick is in his late stages of completing his PhD in the Faculty of Medicine at the University of British Columbia. The aim of his research is to understand the cardiovascular responses to water immersion and specifically during aquatic treadmill running. On top of understanding the influence on the cardiovascular system during exercise, he aims to determine the short and long-term advantages of aquatic exercise for enhancing future on-land performance. Ultimately, he is passionate about continuing to remain on the leading edge of aquatic therapy research and applying these findings in order to ensure his clients have the best experience possible. On top of his work at Hydrathletics, Nick teaches in the School of Kinesiology and Health Studies at Queen's University. His passion for education and learning is further demonstrated by presenting at various sports medicine conferences throughout North America.
Prior to his return to Kingston, Nick spent two years working as the Sport Scientist for Field Hockey Canada helping prepare the Men's National Field Hockey team for the 2016 Rio Olympic Games.