HydroTherapy with NFL and Collegiate Players
Presented by: Collin Francis, Assistant Athletic Trainer at the Baltimore Ravens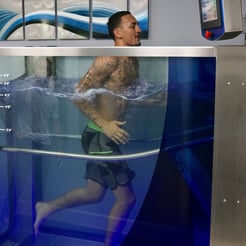 This webinar was part of the Spring Sports Medicine CEU Program that HydroWorx is offering. In this webinar, you will learn how to:


Identify how the unique properties of water are beneficial to shoulder rehabilitation after surgery.
Identify the phases in which aquatic therapy can effectively be utilized in the SLAP repair rehabilitation progression.
Apply new aquatic exercises that can enhance the rehabilitation of shoulder labral repair surgery.
Speaker BIo:
Collin Francis is an Assistant Football Athletic Trainer for the Baltimore Ravens, where he assists the Head Athletic Trainer in all of his duties. He has also been the Interim Head Athletic Football Trainer at Indiana University, where he was also the Director of Rehab for the football team. Prior to that he served two years as the Head Football Athletic Trainer at Morgan State University in Baltimore, MD.
Before going to Morgan, he worked for the Carolina Panthers of the National Football League where he assisted the Head Athletic Trainer in all aspects of his job including rehabilitation program development.
Collin completed his Masters of Science Degree in Youth Development Leadership at Clemson University. While attending Clemson University he also served as a Graduate Assistant Athletic Trainer for the football team and the swimming and diving teams.
Collin earned his Bachelors of Science Degree in Athletic Training from the University of Delaware. While there he also served as a Summer Camp Intern for the San Diego Chargers of the National Football League. He served as a Student Athletic Trainer for all of University of Delaware's Intercollegiate Athletic Teams.
Collin works for the USA Swimming National Team as an Athletic Trainer and Medical Consultant. He was on the staff for the 2013 World University Games in Kazan Russia.