aquatic therapy progression for a Return to running and jumping
Presented by: Erin Bussin, Hydrotherapy Lead at Fortius Sport and Health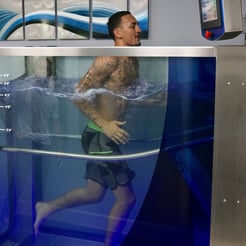 This webinar was part of the Spring Sports Medicine CEU Program that HydroWorx is offering. In this webinar, you will learn how to:


Understand how water alters the training environment.
The performance benefits and considerations of training in water.
Progression for a return to running and jumping using an aquatic setting.
Speaker BIo:
Erin Bussin, As part of the integrated team at Fortius Sport & Health, Performance Rehabilitation Coach, Hydrotherapy Lead​ Erin Bussin brings her experience of working with special populations in both the clinical and research setting. Erin earned her Master of Science in Rehabilitation Sciences at the University of British Columbia. Prior to Fortius, she spent 2 years in the research environment attaining skills to better help design and implement evidence-based rehabilitation programs. She is always looking for ways to expand her knowledge in health and wellness, performance, and maximizing client potential. Outside of work Erin's passion is Ultimate. Erin is an avid ultimate player, an active member in Canadian Ultimate governance, and she coaches the UBC development team in her spare time.