Can Aquatic Therapy Benefit Children with Sensory Processing Disorder?
Presented by: Hima Dalal, OTR/L, Owner and Founder of Vital Energy Wellness and Rehab Center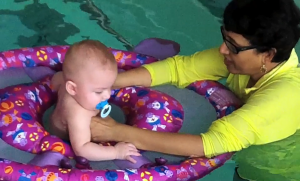 This webinar, presented by Hima Dalal, owner of Vital Energy Wellness and Rehab Center, will promote an understanding of Sensory Processing Disorder (SPD) in children. Attendees will learn how to conduct an assessment and implement a treatment plan using an aquatic therapy pool. Attendees will learn how and why children with SPD benefit from the warmth and buoyancy of the natural water environment.

This presentation will demonstrate how different therapeutic activities and interventions in the pool can help children to multitask and integrate their sensory system for social and play activity, auto-regulation and self-care. Hima will also discuss how the aquatic environment can support tolerance to touch, smell, sound and taste to improve visual perception and reaction.

This webinar will provide an insight on how to integrate aquatic therapy with traditional therapy for children with SPD and how it may help them overcome daily obstacles.

attendees of this webinar will Be Able To:
Demonstrate an understanding of an intervention and therapy plan for SPD.

Demonstrate an understanding of the benefits of aquatic therapy for SPD.

Demonstrate an understanding of precautions for exercising in an aquatic setting.

Recognize how children with different conditions can use aquatic therapy to improve core strength, muscle tone, flexibility, proprioception and gross fine motor skills.

What Past Webinar Attendees are Saying:
"Please continue with the webinars. They are very informative!"
"I think this was an excellent webinar!"
"You guys did a very nice job! Thank you for the webinar!"
SPEAKER BIO:
Hima Dalal has been practicing as an integrative occupational therapist for the last 38 years. She has used aquatic therapy for the last 10 years with exceptional results. Hima is a current board member of the South Carolina Department of Labor, Licensing and Regulation and has had numerous articles published in magazines such as Lexington Women. She has also appeared on radio and TV shows and has appeared on ABC's Good Morning Columbia as a health expert advisor for the last 2 years.