Use of Hydrotherapy in Stress Fracture Recovery of Canada National Volleyball Team Captain
Presented By: Nick Held, M.Hk, CSCS, Director of Hydrotherapy at Fortius Sport & Health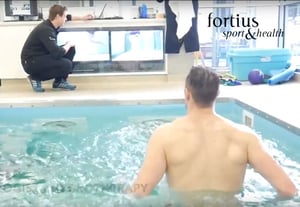 In this webinar, Nick Held, Director of Hydrotherapy at Fortius Sport & Health, will present a case study focusing on the use of hydrotherapy in the multidisciplinary recovery of the Canadian National Volleyball Team's Captain, Gavin Schmitt, leading up to the 2016 Rio Olympic Games.
The recovery took place at Fortius Sport & Health in Burnaby, British Columbia through a collaborative effort with physiotherapy, massage therapy and strength and conditioning. Gavin's procedure included tibial nailing for a right leg anterior stress fracture, as well as a bone graft for a left leg non-fully healed stress fracture which was previously nailed in September 2013. The use of hydrotherapy was a pivotal part of the rehabilitation process from early care through to return to play. Nick will present the timeline of the injury, the exercises used and the application of aquatic protocols during each phase of the rehabilitation process.
As a result of attending this webinar, attendees will learn:
The range of injuries commonly treated with hydrotherapy at Fortius Sport & Health.

The timeline of the injury and the phases of rehabilitation.

The exercises used during each phase of the rehabilitation process.
What Past Webinar Attendees are Saying:
"Please continue with the webinars. They are very informative!"
"I think this was an excellent webinar!"
"You guys did a very nice job! Thank you for the webinar!"
SPEAKER BIOS:
Nick Held is a member of the integrated practitioner team at Fortius Sport & Health as the Director of Hydrotherapy and brings additional experience as a strength and conditioning coach. Previously, Nick held the positions of Sport Scientist with Field Hockey Canada, Strength and Conditioning Coach at Hydrathletics and Behavioral Coach with Wellspring UK. He exemplifies his passion for education and continuing development as he is currently completing his PhD in Experimental Medicine at University of British Columbia. His research interests include the use of water immersion in performance, rehabilitation and recovery as well as long term athlete development. Nick has years of experience using hydrotherapy to help individuals optimize performance and rehabilitation and reach their full potential. In addition, he has presented at multiple conferences in North America and was nominated for the HydroWorx Excellence in Aquatics award.